Frank has had a hard life. The lines on his face and the tooth decay tell it without words.
He arrived at the Uniform Exchange on the day we hibernated the pilot with a bag containing his daughter's school blazer and jumper.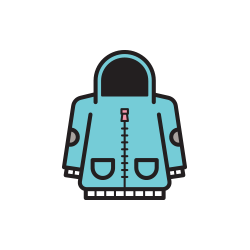 Sinead, his daughter, was struggling with mental health issues and had been eating for comfort. She had rapidly put on a lot of weight and was no longer able to fit into the new school uniform that Frank had bought her not many months ago.
The blazer and jumper had cost him £60. Sinead's uniform was now too tight and she was too embarrassed to wear it. So instead, she was sitting at home rather than going in to school. Frank burst into tears as he told us about Sinead, he said he was really worried about her and he didn't know what to do. Tragically, we had put all the Uniform into storage that morning and had no access to any to swap with him. Jane, who served him, was heart broken: 'To turn someone away who has the dignity to care as much as he does for his daughter was devastating. I leant against the wall and had a cry myself after he was gone. It's not right that we couldn't help him."
We are currently looking for a premises and a team to run the Uniform Exchange project. If you can help, please do contact us.