Luton Town is a football club with a long history and its roots firmly entrenched in the community in the town.
Formed in 1885, the Club has been through many ups and downs, but has always acted as constant within the community of Luton, with many generations of Lutonians counting themselves as supporters over the years and still boast one of the largest followings in League 2.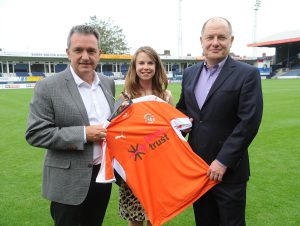 We strongly believe in the value of supporting local organisations which do such important work supporting young people and those living in poverty. Luton Town were the first professional football club in England to commit to and deliver the Living Wage for its staff, and also have a salary sacrifice scheme in place, supporting the Luton Foodbank.
As such, working with Level Trust, to help fundraise and raise awareness of their work made perfect sense. We're looking forward to welcoming Level Trust back to Kenilworth Road for their dedicated match day when we play Crawley Town on February 11th 2017. For this match, shirt sponsors SsangYong have generously agreed to swap their logo for Level Trust's for the match.