June 2018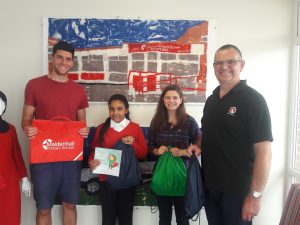 On Tuesday 19th June, Vauxhall Motors and local children's charity Level Trust teamed up to provide 715 packs of vital learning resources to children and young people in Luton.
The Learn@Home packs are drawstring bags bursting with the things that children need when they start school or while they're studying for their GCSEs, such as arts and craft supplies, story books, note pads, revision guides and a range of stationery.
With 16,000 children in Luton growing up in poverty, this material support is crucial in giving them a level chance at school – and beyond.
Volunteering for the day, 12 Vauxhall staff from across the Luton operation created the packs and delivered them to 24 Luton schools, often being welcomed by pupils.
"The Warehouse facilities at Vauxhall are normally used to accept car and van parts, but our team were happy to accept the array of stationery items needed for this project.  Two Vauxhall Vivaro's left the Warehouse destined for numerous Luton schools. We were pleased to help so many children whose families are finding things difficult at this time," said Cherie Denton, Vauxhall Community Coordinator.
Christian Iszchak from Level Trust said: "When a child's family is struggling to make ends meet, they miss out on things. It's absolutely fantastic that Vauxhall does so much to help us provide these children with the resources they need for school. Some of the children we met during our deliveries could remember receiving packs of their own two or three years ago, so we know they have a lasting impact!"
Next year, Level Trust and Vauxhall aim to provide packs to even more schools and to nurseries, to meet the huge need in our town. If you would like to help by fundraising or donating materials in bulk, please contact Christian on christian.iszchak@leveltrust.orgor 07480 753905. During July and August, you can vote in local Tesco stores for Level Trust to win up to £4,000 to spend on Learn@Home packs through the Bags of Help scheme.