April 2019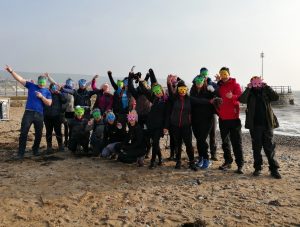 A team of 21 intrepid walkers have challenged themselves with the trek of a lifetime to raise money for Luton's children.
On Saturday 6thApril, the group trekked an incredible 34km (21 miles) along the Jurassic Coast in Dorset to raise money for Level Trust.
Over the course of 10 tough hours, the team walked the stunning South Coast Path from Swanage to Lulworth Cove. Scaling steep climbs – and just as steep descents – they climbed a total of 1,309m, just 36m less than the height of Ben Nevis.
Among the participants were the 'Jurassic Coastbusters' from Machins Solicitors LLP, a team from Metro Bank Luton and a fearless family celebrating a 50thbirthday! Local clothing company Prestige Design kindly donated bespoke t-shirts so everyone could step out in style.
The group's amazing efforts raised over £10,000. What an amazing achievement!