Our Impact
We are very proud of the difference we make to children and their families in Luton.
Since Level Trust began in 2013, we have been giving children and young people the things they need to love learning. We work in partnership with 69 schools and nurseries in our town, making sure our helps goes where it's most needed. Here are some figures to show our impressive impact.
Download our latest Impact Report 2021_V2
For full details of what we have achieved each year, please see our Trustees' Reports and Accounts.
3,930
Learn@Home packs
3,345
new school shoes
4,469
visitors to the Uniform Exchange
8,878
items of uniform
1,041
warm winter coats
Saved families an estimated
£170,726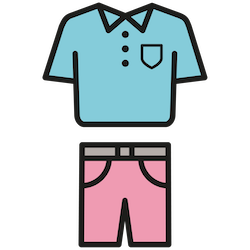 Frank's Story
Frank has had a hard life. The lines on his face and the tooth decay tell it without words. He arrived at the Uniform Exchange with a bag containing his daughter's school blazer and jumper. Sinead, his daughter, was struggling with mental health issues and had been eating for comfort. She had rapidly put on...

>> Read More