Our Projects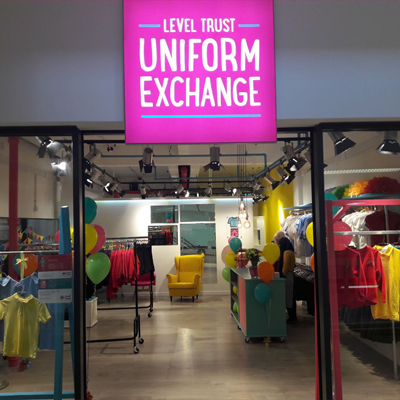 To help us cope with high demand please order your school uniform from our Uniform Exchange website before visiting us in the Mall. Do speak to your school family worker if you need help with online ordering.
We offer free school uniform and emotional and practical support to all Luton families through our Uniform Exchange.
We have been busy developing a Click & Collect service and putting lots of safety measures in place to make it easier and safer to get your uniform.
Our wonderful volunteers have been sorting through the uniform to help us make sure we have as much available as possible. As always, our stock depends on what we have received so please check back if you can't find what you need.
You can now order uniform online and then collect it from the Uniform Exchange. Visit the Uniform Exchange website here.
This is how it works:
1 You order the uniform you need using our new online shop which will launch soon
2 We'll pack your order and then contact you to let you know when it's ready to collect
3 You collect your order from the entrance of the Uniform Exchange during our opening times
We are working to reduce the amount of time you have to spend in town, and the shop won't be open for customers as usual. Please try to order everything you need and let us know in the comments box with your order if there are any specifics we should know about when choosing the uniform. We may not be able to add extra items at the point of collection due to our safety measures. All orders must be made beforehand.
We are working hard to make the process safe and simple for everyone. We look forward to seeing you again soon! Thank you for your patience and please watch this space for updates.
Donations
We will be collecting donations again when we reopen and sorting and washing them with extra safety measures in place.
OPENING TIMES
Mon 10am – 2pm
Tue 10am – 2pm
Wed 10am – 2pm
Thu 10am – 2pm
Fri  Closed
Sat 10am – 2pm
Sun Closed
About the Uniform Exchange
The cost of buying school uniform can really add up so the Uniform Exchange is a great way to save money. Reusing school uniform also cuts down landfill waste while saving precious materials such as cotton and synthetics, so it's good for the environment too.
Anyone can use the Exchange, just come into our friendly shop with uniform items you have finished with and swap them for uniform you need. Don't need anything in exchange? You're very welcome to simply donate uniform. If you don't have anything to swap, talk to your school and they will give you a gift card to swap instead. And remember, it's all free!
You can find us upstairs in The Mall, next to the children's centre. We are closed at the moment and will update our opening times soon.
'Amazing idea. Such a great help to parents on low income.' Mum from The Linden Academy
'This is a great service, very necessary for families with less income and to reduce our carbon footprint.' Local mum
'The service is great and I got the items of clothes I wanted in good condition.' Dad from Ashcroft High School
'Am happy the way you guys help because I was not able to afford another school uniform.' Mum from Tennyson Road Primary School 
Take a look around the Uniform Exchange through this fantastic virtual tour, created for us by Striking Places:
The Uniform Exchange receives funding through a grant from The National Lottery Community Fund, thanks to players of The National Lottery.